Information Technology Solutions
"Information technology and business are becoming inextricably interwoven. I don't think anybody can talk meaningfully about one without talking about the other." ~ Bill Gates
We offer information technology solutions for businesses of all sizes.
This entails expert business and technical knowledge to help you get the most out of your operating and sales systems. Our services span the entire technology scope to include assessment, procurement, IT strategy, implementation and migration. We provide comprehensive recommendations for application performance improvement and greater business value achievement. Our competency areas include:
Customer Relationship Management (CRM) Systems
Point of sales operating systems
Enterprise resource planning (ERP) systems
Supply chain solutions
Application performance
Resource planning systems
Roster and scheduling systems
Virtualisation
OHS and asset management systems
Inventory automation
Job costing systems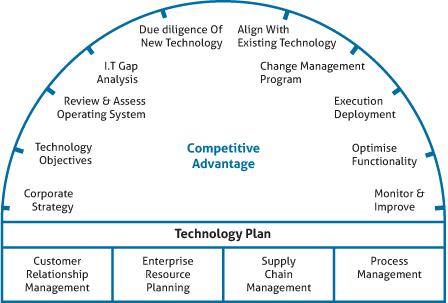 BPS assists organisations when undertaking technology due diligence services as well as uncovering risks and synergy opportunities that will enable the optimum choice when deciding on new technology or operating system. Our consulting services include Technology Reviews, IT Governance, Aligning Systems with Strategy, Technology Strategy, IS Polices, KPO Solutions and Software Functionality.
The diagram above highlights the BPS approach to developing a competitive Technology Plan.